About Funtote® Designer Canvas Tote Bag Funtote.com designs, manufactures and wholesales canvas tote bags brand – Funtote®. Our young and passionate design team works very hard to bring new and unique fashion canvas tote bags to our customers. Our designs focus on Fashion, Function, Quality, Cost and most importantly Fun for every piece of the Funtote® bags. We manufacture our own products to assure quality and give value to our customers.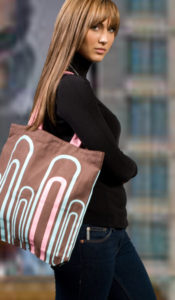 OUR PRODUCTS
Fashionable and practical, The Funtote® Designer Canvas Tote Bags are highly accepted and admired by our customers around the world. All our talented designers are from New York City downtown area, they are visual artists with extensive resumes including museum exhibitions. All our artistic designs are made into drawings, patterns, swatches and color palettes. Our designers then work closely with our factory technicians to turn the designs into samples, every sample then be carefully examined and all special features and functions be tested, we eventually have the Funtote® designer canvas tote bags that are truly unique and special.
WHOLESALE
We wholesale fashion canvas tote bags of Funtote® to fine retail establishments, book stores and museum stores across the country and around the world. If you are an established distributor in your country we very much want to hear from you.
SOCIAL RESPONSIBILITY
Funtote® believes deeply in social responsibility. We work hard to make positive impact on our associates, customers, and the world around us. We act responsibly and with integrity, conducting our business as a great employer, citizen and neighbor. We encourage and challenge our employees and customers to give their best by giving back to our communities, and continue to donate to various charities.
WE SUPPORT CANCER INSTITUE
Funtote.com recently donated our Zebra tote bags to the Cancer Institute to promote awareness and to fund the education and research needs related to carcinoid cancer.
Funtote.com – We wholesale the best designer canvas tote bags!